UPDATES – You can still join us!
MEET UP LOCATION

We will gather together under this banner from One Earth Sangha.
 Text message ONLY:  301-351-6633 for up-to-date info on meeting up tomorrow.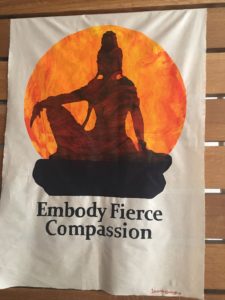 ADDITIONAL RESOURCES
Map of March Route
M4RJ Event FAQs, what I can bring section, link to logistics
https://www.m4rj.com/faq/
---
Dear Beloved Community,
Sisters and brothers from the practice are coming from around the East Coast this Saturday, 09/30/17, to gather in loving mindfulness and gratitude on the Washington Mall, sharing our appreciation for each other and our path of Engaged Buddhism. We gather again at a time of great pain and suffering, pain and suffering often showing itself in great anger. We are so grateful to have each other, and so grateful to have our shared practice to contribute to healing in each other and in our broader community.
Let's join together for the March for Racial Justice in DC to clearly acknowledge the systems of racism in the U.S., the mass suffering these inequities cause, ground our collective intention in love and engage honestly together on the path of liberation. You are invited to go as a river (i.e. meet together beforehand, have a brief meditation, and depart as one), walk mindfully as a practice community through downtown D.C.
Please extend this invitation widely — you don't have to be 'buddhist' to march…!  All are welcome!
Meet up plans:
​*Meet and gather at ​NEW CARROLLTON METRO STN (ETA 10-10:15AM). Parking available, see links below.
​Have a brief meditation.  Ride Orange Line train ~20 min to EASTERN MARKET METRO (ETA 10:45AM). Connect with others joining at this point.
From Eastern Market Metro, walk together 15 min to line-up location at LINCOLN PARK (ETA ~11AM).
​Once at Lincoln Park we hope and intend to join up with fellow Buddhist practitioners from DC area and the Rolling Retreat participants from Compassion NYC:
Line up will be at Lincoln Park on Capitol Hill, marching to the Capitol and past the Department of Justice, before culminating at the National Mall between 4th and 7th Streets. A vigil at MLK Memorial will happen at sundown. According to the March for Racial Justice website, more information about entry points and the line-up will be posted closer to the date.
​Traveling from Baltimore:​
​Drivers may opt to depart March activities as early as ​1​:30PM ​for ​estimated return time to downtown Baltimore ~3:​00PM.  An alternate option for returning to Baltimore is via MARC Train from Union Station or New Carollton Station.  Check the
weekend schedule
for details to ride the
MARC Penn Line
.
Currently, there are 2 confirmed cars departing the Security Blvd Park & Ride.  There are OPEN ​seats available in cars if you are able to meet at Security Blvd Saturday morning by the appointed time.  Please email bbmcspace@gmail.com ASAP or text 301-351-6633 for us to save you a​ seat​.
Additional drivers are welcome to join us ​with an email or text notification (see above contact info).  You can discuss/decide return times with your respective passengers.
If you are interested and require a ​ride from ​​Baltimore city, please contact us via email or mobile phone ASAP!   ​​

Please make all final requests and notifications before ​7:00AM Saturday morning.  Thank you!

If would like to link up with us at either of the Metro Stations, please send an email or text notification so we can connect and communicate with you with ease.